Gutter Replacement Cost – Free Estimates for Arlington Residents
Are you planning to get new rain gutters installed in place of old, worn out ones? Want to get an idea of the gutter replacement cost so that you can plan the job and your budget? Get in touch with Pacific Star Gutter Service, Inc. As a leading gutter company, we offer free, honest and accurate estimates on our gutter prices for Arlington, WA residents.
Whether you need to know gutter replacement cost per foot or approximate gutter installation cost for a new construction project, call us.
Ever since setting up the business in 1985, we have been focused on leaving our customers happy after replacing their gutters. We strive to keep gutter replacement cost low for Arlington residents. We also promise that there are no unpleasant surprises for them regarding the gutter replacement cost at the end of their job. ThatÕs because we:
Believe in upfront pricing
Have no hidden charges
Work within their budget
Affordable Gutter Prices for Arlington Homes – Aluminum, Copper & Wood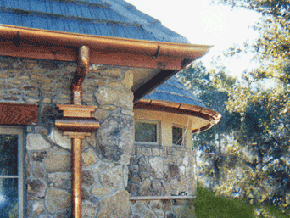 Running a household can be expensive and homeowners always look for ways to save a few dollars. Not surprisingly, gutter prices are a major consideration when they have to choose a gutter company. However, while wanting to save on gutter installation cost or gutter replacement cost is reasonable, you want to make sure you're not compromising on quality!
This is where we come in. We offer high-quality gutters at affordable gutter prices to Arlington homeowners. We try to keep the gutter prices as low as possible, whether customers come to us for:
Standard or specialty gutters
K-style, S-Line or Half-Round gutters
Four, five or six-inch gutters
In case you are interested in getting a gutter protection system, rest assured that you can have it installed by us at very competitive gutter cover prices or gutter guard prices.
Call Today for a Free Quote on Arlington Gutter Installation Cost
Proper planning is a must before initiating a gutter installation project. It includes enquiring about the gutter prices.
Getting our free quote on gutter installation cost can help Arlington residents decide whether it is feasible to get the job started. Along with giving them a clear idea of the rain gutter installation cost, we also:
Answer all their questions and concerns about the gutter job
Listen carefully to the exact gutter requirements
Assure them of the high quality of our materials
Highlight the capabilities of our technicians
Contact Pacific Star Gutter Service, Inc. for a free gutter installation cost estimate. Arlington residents can reach us at (425) 361-0399.