Gutter Guards Everett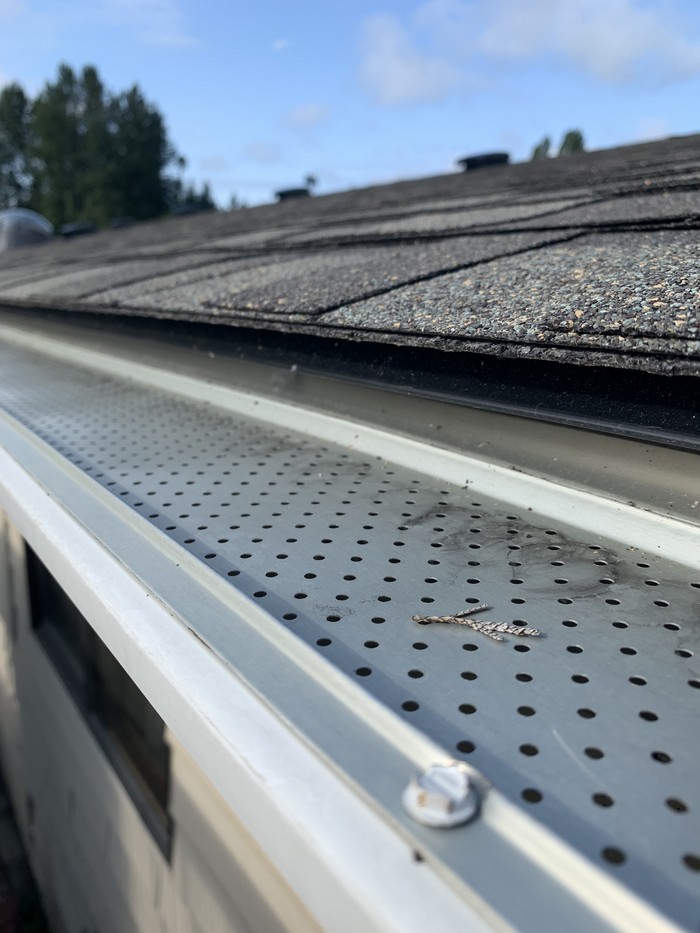 If there are two things we have plenty of in Washington, it is rain and leaves! Both of those items combined can be a nightmare for low-quality home gutter guards. Pacific Star Gutter will come to the rescue with excellent gutter guards for your Everett, WA home. We have been in business since 1985, and have seen great improvements in gutter covers.
Gutter guards technology has come a long way in recent years. Older styles have weak spots, including the spaces between the brackets and at the corners, where UV rays can eventually dry out and destroy corner sealants and create leaks. Today's industry standard Leaf Relief® Continuous Hanging System by Ply Gem continuous hanging system common gutter is the way to go! The new system strengthens the gutter guards from front to back and end to end. This provides great benefits:
Keeps gutters clear of debris
Drains gutter water away from home.
Weak gutter spots eliminated
Continuous hanging system stands up to ladder crush, heavy snow
Blocks sun to protect the gutter sealant
Call Pacific Star Gutter at 425-361-0399 when you want innovative and long-lasting gutter covers for your Everett area home.
Pacific Star Gutter proudly uses Leaf Relief by Ply Gem
Gutter Guard Everett
Traditional gutter guard hangers leave weak spots and gaps between each spike or hanger. The result is flimsy gutters prone to damage including warping, denting, and water infiltration in your Everett home. We can provide excellent gutter guard products for your home, whether new construction or an older home needing upgraded gutter guards. Our preferred gutter guard system, Leaf Relief® Continuous Hanging System, has these great features:
Protection against ice
Self-sealing gutter screws
Exceptional gutter durability
25-year no overflow, no clog warranty
New access panel for gutter access
You can reach Pacific Star Gutter at 425-361-0399 when you are tired of cleaning out leaves and want new gutter covers for your Everett area home.
Gutter Covers Everett
No one enjoys the task of getting up on a flimsy ladder and dealing with the sloppy leaf and debris mess that always clogs up our home's gutters. At Pacific Star Gutter, we love installing gutter covers on your Everett area property that will give you peace of mind and reduce your maintenance and worry. Our gutter covers offer the following:
Virtually eliminates gutter maintenance
Gutters invisible from the ground
Handles the heaviest rainfall
Snow and pest resistant
Keeps leaves and debris out of gutters
NEW Access Panel option
Call Pacific Star Gutter at 425-361-0399 when it is time to replace or upgrade your home's gutter covers in the Everett area. Our Leaf Relief® Continuous Hanging System will be the perfect choice.