Lake Stevens Gutter Installations
When you decide for new gutter installations in your Lake Stevens, WA, area home you make a very significant decision that results in reducing the threat to structural damage of your property from rainwater run-off flowing down the roof. Installing gutters is a small expense for avoiding property restoration work that will be required when your home suffers water damage due to lack of guttering.
Call in the experts at Pacific Star Gutter to install gutters for you if you want the investment to go a long way. Our company has been carrying out gutter installations in Lake Stevens since 1985 and takes pride in a rightly-deserved reputation for services that are:
Thoroughly professional
Seamless
Affordable
Friendly and stress-free
Whether you want to hire experts for installing gutters in new construction or are looking for someone to install gutters in an existing property after removing the old, worn-out ones, we have you covered.
Lake Stevens Installing Gutters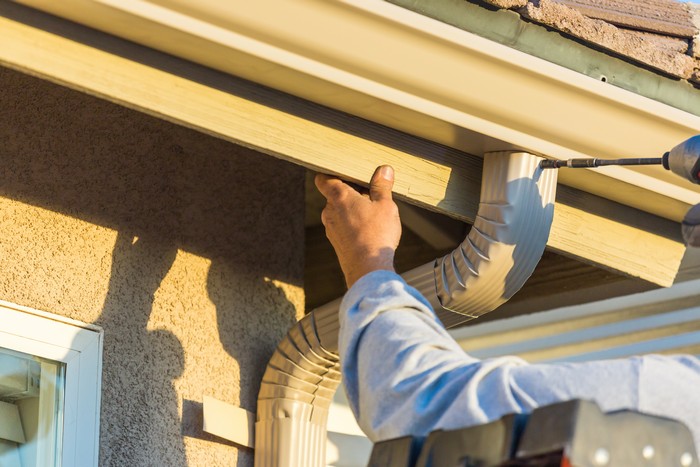 It is imperative to choose the right contractor for gutter installations or gutter replacement jobs. The efficiency of gutter system has a significant impact on the exterior beauty, structural integrity, longevity and market value of your home. Meanwhile, performance of the system depends on the quality of rain gutters and the expertise of the technicians who handle gutter installations.
Be sure of spending your hard-earned money wisely by hiring us for installing gutters in your Lake Stevens area home. We are committed to protecting your best interests and fetching you optimum ROI.
When you hire us for installing gutters, rest easy that the job will be done:
With top-grade materials
By well-trained, seasoned crew
Diligently, without even slightest oversight
Lake Stevens Install Gutters
Our company does gutter installations catering to diverse needs. We can install gutters in Lake Stevens area properties of any size and on single as well as multi-story homes. We install gutters of many types and styles.
Customizing our products and services to suit your unique requirements, we can install:
Aluminum, wood or copper gutters
K-Style, S-Line or Half-Round gutters
Gutters in a color that complement your home
Get in touch with us to learn more about the options we offer for gutter installations and gutter replacement. Also get a free estimate on our prices for installing gutters.
Looking for proven pros to install gutters in your Lake Stevens area home? Hire Pacific Star Gutter. Call (425) 361-0399.